Close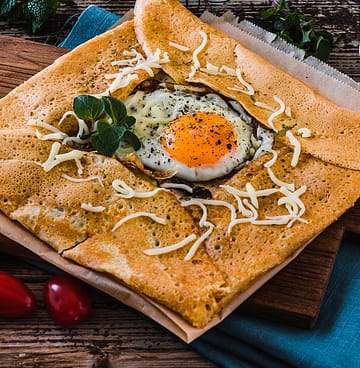 Gourmet day as a family
Crêpes and galettes
with fantastic people
© AdobeStock
08:47
Breton breakfast!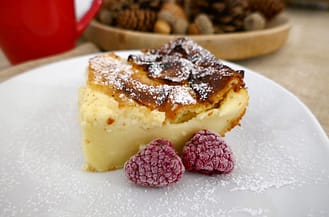 Yesterday's hike was damned energetic. Today you have every intention of regaining all the calories lost then.
Starting with a hearty breakfast!
On the table, you've arranged a lovely raspberry-filled Breton cake, Far Breton (prune custard flan), still warm, home-made jam and of course a block of semi-salted butter!
There is nothing else to do save for cooking the crêpes, so the entire family wakes up gathering around the table, tempted by the sweet aromas filling the cottage.
09:34
Stroll through the Morlaix market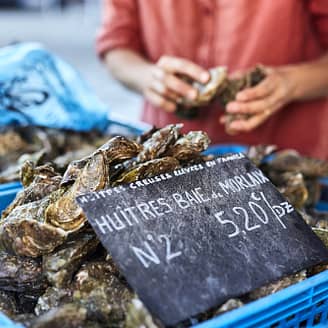 When on holiday, you love to stroll amongst the stalls, and take time to talk with the producers, to choose the best produce and products…
The large food market in Morlaix, taking place in Place Allende every Saturday morning is renowned for being highly colourful and flavoursome. Here you'll start today, which will be dedicated to Breton gastronomy!
11:26
Oyster aperitif appetizers on the terrace on the Pen Al Lann headland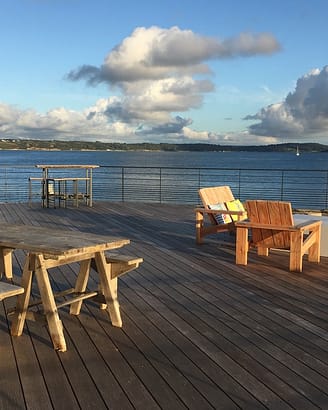 © Etablissements Berder
After the market, you dash to one of best oyster farmers in the bay, the Etablissements Berder company. They've been producing oysters for four generations.
We've recommended you come here to sample various types of oysters and you couldn't resist the "Petite Roc'h Glaz", delicately salted, perfect for your apéritif.
You enjoy them on-site to make the most of this magnificent terrace overlooking the Pen Al Lann headland, offering a vast view over the bay.
14:32
Local area delicacies at the traditional canning factory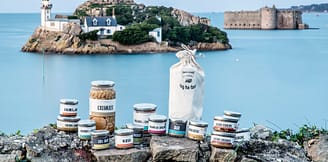 © Conserverie Artisanale la Chikolodenn
You're a gourmet, and you love discovering dishes typical of the area. The experts have recommended you try Kig Ha Farz, a dish made from vegetables, buckwheat and white flour-based dumplings and pork meat. This appears to be the speciality of the La Chikolodenn canning and catering company, whose reputation goes beyond Brittany.
You'll make the most of it to fill your basket with delicious seafood rillettes (using smoked salmon or poached whole salmon), or the delightful Cassoulet Breton à la Saucisse de Molène Fumée aux Algues (Breton slow-cooked stew, with Molène sausage smoked in seaweed) or even caramelized Roscoff pink onion confit.
Recyclable glass jars for an unforgettably Breton culinary journey…
16:22
Enjoy Kouign Amann at least once before you die!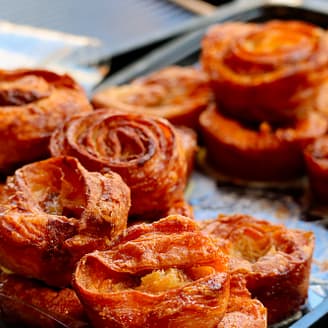 Now after 4 p.m., it is snack time and this works out well (with this Breton butter cake), as this morning you stopped in Morlaix at the Martin bakery, a genuine institution since 1884.
A treat, with a certain amount of calories, you have to admit. 🙂
17:30
Cuvée
Carpe Diem cider at the Kervéguen cider-makers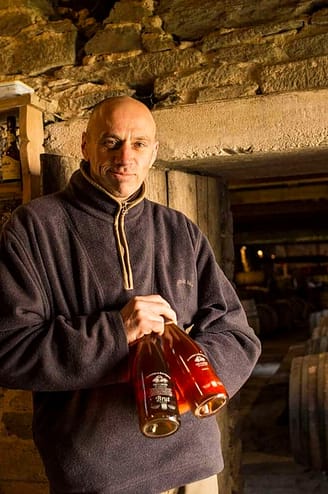 © Cidre de Kerveguen
You really want a small bowl of cider to eat these delicacies!
The Kervéguen cider factory, established in a former manor from the 15th to 16th century, with its dovecote amidst orchards of 6 hectares, welcomes you until 6.30 p.m. in July/August…
The Cuvée Carpe Diem certainly tempts the gourmet in you! Go for a bowl, in addition the cider is organic!
19:49
Coquille Saint Jacques de la Baie on your gourmet menu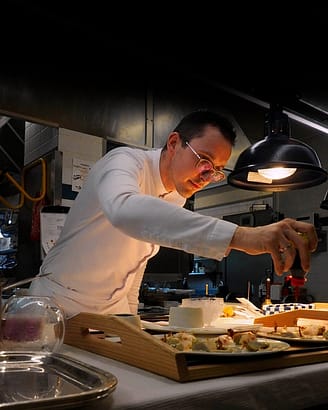 © Nicolas Carro
Lesser known than its neighbour in Saint Brieuc, Coquille Saint Jacques de la Baie (scallop-based dish), with its generous walnuts and refined flesh is particularly sought-after by enthusiasts.
You'll enjoy it raw in a carpaccio, on a skewer or simply pan-fried. This evening you trust a Michelin-starred Chef, who seems to cook it magnificently!
You've therefore booked a gourmet table at the Hôtel de Carantec where the chef Nicolas Carro is in charge! An exceptional evening to end this culinary journey and, on top of that, a splendid view over the ocean!