Close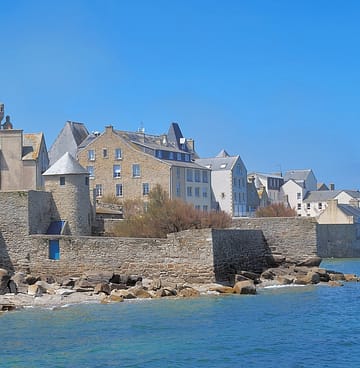 Follow in the footsteps of the Privateers
All aboard
for Roscoff!
08:38
Wake up gently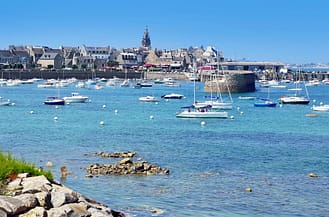 Today, there is no need to wake up at the crack of dawn! Today's agenda is intended to be lighter, and above all the privateers' town of Roscoff is near the campsite. It only takes around 20 minutes' drive to get there.
Consequently, there is no need to set the alarm, everyone gets up at their own pace and breakfast can go on forever! Comfortably sitting down on your mobile home's terrace, you can't resist the temptation to eat this third croissant which you've constantly been eyeing for far too long…
Now the cups and bowls have been washed up, everyone gets into the car, heading for Roscoff!
10:23
The shipowners' houses, vestiges of a glorious past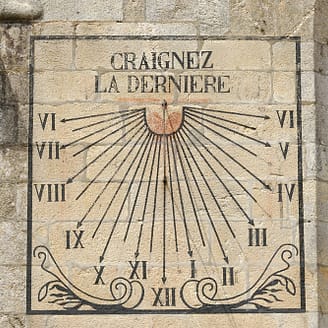 You've arrived in Roscoff. Along the port, you admire the facades of the shipowners' houses, each equally delightful. Built between the 15th and 17th centuries, by rich shipowners and merchants in the town, they have numerous architectural devices such as mullioned windows, gargoyles, sculpted dormer windows, turrets, spiral staircases or even richly sculpted monumental chimneys.
Your camera in hand, you capture these facades, before going to a souvenir shop, to buy stamps and some postcards.
11:36
Go for a stroll and lose yourself in Roscoff's alleyways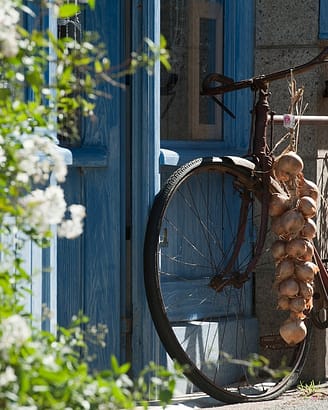 Having walked along the quays and admired the facades of shipowners houses, it is high time to disappear into the town's alleyways and lose yourself in its passageways.
Set off exploring, with no precise aim in mind. Simply be guided by mere curiosity! At every street corner, you'll discover new wonders: hidden squares with fountains, stone houses with colourful shutters, gardens in bloom lining the streets, traditional picturesque shops and welcoming cafes.
12:45
Gourmet break at the restaurant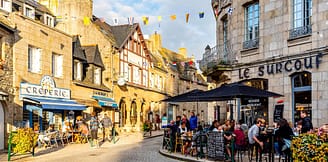 Although the curiosities keep coming, you have hunger pangs! Returning to the quays of the port, you discover warm and welcoming establishments, ready to offer you a genuine culinary feast. The mouth-watering aromas escaping from the kitchens, tickle your taste buds and arouse your curiosity.
Finally, you find a restaurant which attracts your attention. The carefully laid tables and convivial atmosphere entice you to sit down, and make the most of a well-deserved moment of relaxation. The tempting menus are promoting fresh seafood, offering a real symphony of flavours.
You choose from local specialities, freshly fished sea food, delicately prepared fish, crêpes served with Breton delights. Every mouthful an explosion of flavours, arousing your senses and satisfying your appetite…
14:36
The scent of exoticism in Brittany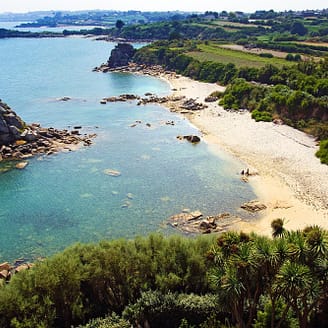 After this delicious meal, you decide to continue your day exploring Roscoff, by going to the town's renowned exotic botanical gardens. The intoxicating scents of exotic flowers are fragrant in the air and the lively plant colours draw your eye. You walk along the meandering alleyways, filled with wonder by the diversity of species populating this enchanting location.
With each step you discover botanical treasures coming from all over the world. Majestic palm trees stand proudly, rare orchids dazzling with their beauty, and tropical plants intriguing you by their strange shapes. In the heart of the garden, there is a magnificent viewpoint over Roscoff bay and its large port, where the ferries maintaining the cross-Channel links with the United Kingdom and Ireland come alongside.
16:12
Come the end of the day, back to the campsite for a well-deserved rest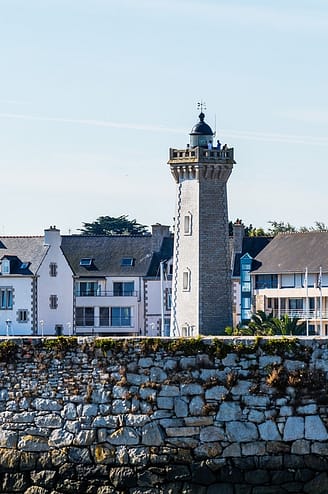 The visit to the Roscoff botanical gardens comes to an end. It is then time to go back to the campsite, all the more so since the children are champing at the bit to go for a swim and meet their friends in the water park. You decide to sit on your mobile home terrace, to write short notes to your friends and family on the postcards you bought this morning…