Live at least once
The 5 star campsite
experience in Brittany
A luxury campsite in Brittany
Welcome to Carantec, in northern Finistère, where our Yelloh! Village Les Mouettes***** campsite welcomes you in the heart of one of the loveliest tourist destinations in Brittany: the Pink Granite Coast – Morlaix bay.
Discover the comfort of a 5-star campsite in Brittany located by the sea, within magnificent lush grounds of 14 hectares, offering an exquisite view over the Morlaix bay.
Our "garden campsite", which is ideally situated and entirely suited to families with young children, recommends the best in camping and caravanning with exceptional facilities, offering you a dream holiday in Finistère.
You'll be dreaming for a long time about
Our exceptional
cottages in the Morlaix bay
See all the accommodation
The EXCEPTIONAL cottages
on a 5 star campsite in Brittany
Get away from it all on the sea view terrace of your cottage and breathe in the lovely sea air, recharge your batteries in your Natura cottage spa or make the most of the surrounding peace of the Canopia botanical park. Our campsite has a range of modern and well-equipped holiday rentals, able to meet your needs for your stay in Brittany. Cottages and chalets are laid out in "neighbourhoods", enjoying neat surroundings, located in genuine, carefully designed gardens, many of them having a terrace with sea view…Traditional camping enthusiasts, take advantage of spacious, lush pitches to set up your tent, caravan or camper!
Finally, you'll go off
to conquer
the treasures of the bay
All experiences
The experiences close to our 5 star campsite in Brittany
Why not take advantage of your stay at the Yelloh! Village Les Mouettes campsite, to go off to explore the treasures of the Bay de Morlaix, the most beautiful bay in Brittany? Around Carantec, let yourself be amazed by the beauty of the views, take a boat to visit the Château du Taureau castle or the island of Batz, take the coastal paths of the GR 34 to explore the sublime landscapes of the Baie of Morlaix bay between Locquirec and Roscoff, taking in Carantec. Hike through the Monts d'Arrée mountain range, discover the Côte de Granit Rose (Pink Granite Coast) located just a stone's throw away, or even stroll through the lively and highly charming alleyways in the town centres of Morlaix, Roscoff and Saint Pol de Léon.
If you're missing information
All news
and special offers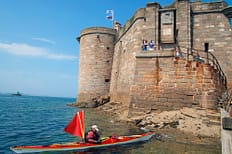 News
Visit the Château du Taureau fortress from Carantec
Make the most of your stay on the Les Mouettes…
Read more…
Display all
Satisfying you
makes us happy
The Yelloh! Village les Mouettes is a campsite renowned for its quality of service and facilities. Rated amongst the best Yelloh! Village sites, our establishment is regularly recognized by the reference guides, and is amongst the best campsites in Europe.
Find all the practical information…