Water park
Amazing blue lagoon and aquagarden
A campsite in Brittany with a water park of impressive dimensions…
Discover the water park on the Yelloh! Village Les Mouettes campsite and offer your children the best water fun in Brittany! Consisting of the Blue Lagoon and AquaGarden, the water park on our Finistère campsite delights young and old alike during their stay in Carantec.
In the heart of the park, find the most amazing facility on the campsite. A water park with impressive facilities, recently enlarged to offer you even more pleasure, areas and thrills.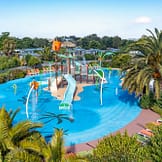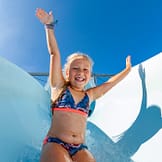 The largest water garden
in Brittany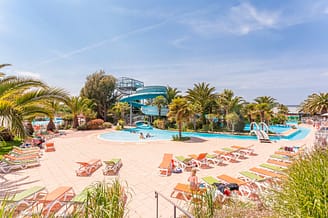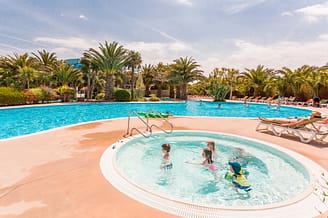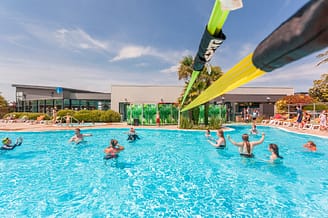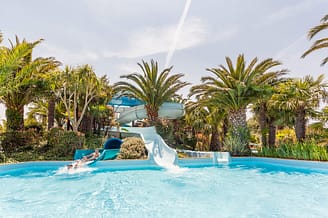 Blue
Lagoon
Lagoon with tropical
vegetation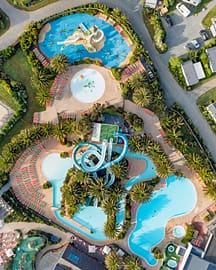 A dream water park in a Finistère campsite
With the heated pools, tropical river, amazing greenery consisting of palm trees and other exotic plants, and three giant water slides, the Blue Lagoon is the village oasis.
With the more peaceful and relaxing mornings, favouring aquaerobics or swimming and the afternoon bubbling with excitement, all generations enjoy it here, whether enthusiasts of idleness or those who love to let off steam. The Blue Lagoon will bring you to new heights of shared enjoyment.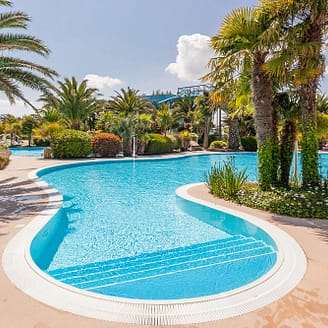 Aqua
Garden
A children's splash pad!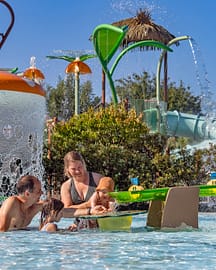 A water attraction unique of its kind on the campsite in Brittany!
Within our campsite near Roscoff, the L'Aquagarden has complemented the Blue Lagoon. Since opening it has never stopped sending very young children, for whom it is first and foremost intended, into raptures.
The Aquagarden is a water park of 2,000 m², entirely set aside for families and children aged 1 to 10. Surrounded by lush tropical plants, this area comprises a paddling pool to play in the water completely safety (pool depth between 15 cm and 40 cm), a 600 m² splash pad with a multitude of water jets to splash about or take aim at mum and dad. There are water cannons, geysers, water flowers, as well as a large water play facility with a giant bucket that pours over the whole family, catching you unawares, and water slides just for children.
The AquaGarden is an area where children can play entirely safely, as the water is only a few centimetres deep.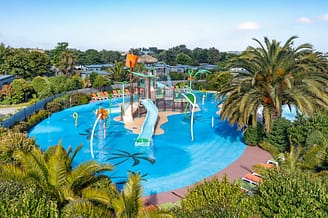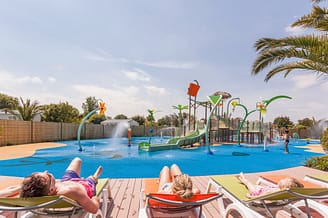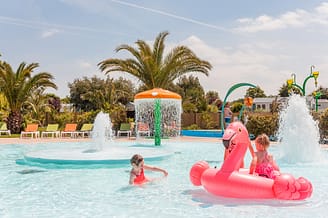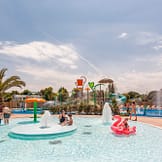 The sunbathing areas on our campsite with a swimming pool in Brittany!
It should be noted that around this magnificent water garden, sunbathing terraces are equipped with numerous sunloungers so you can read, play or rest after a good swim!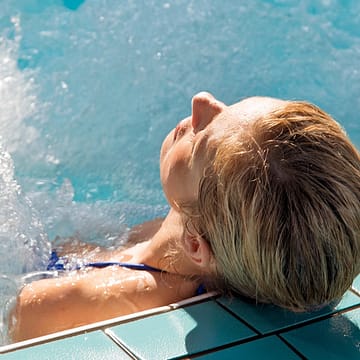 Wellness
Look after yourself
A stone's throw from the water park, Balnéoh! invites you to make the most of its splendid relaxation area. In addition to a fitness and wellness area, Balnéoh! includes an indoor swimming pool with a balneotherapy leisure pool and paddling pool set aside for young children.
Relax