Wellness
Balneotherapy in Brittany
A campsite with balneotherapy in Brittany…
Your holiday in Brittany will certainly be the chance to look after yourself and your family. You sometimes lack time in your daily routine, so make the most of your stay in a campsite with BALNEOTHERAPY in Brittany, to relax in our heated and indoor balneotherapy area, or to take advantage of our fitness area with Jacuzzi and sauna.
If your body is telling you to do so, feel free to feel good in our relaxation and beauty salon where numerous body and facial treatments are lavished upon you, only upon booking.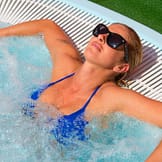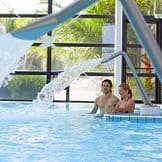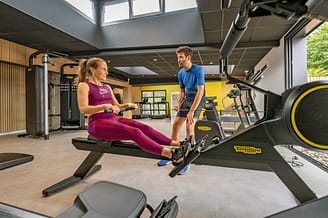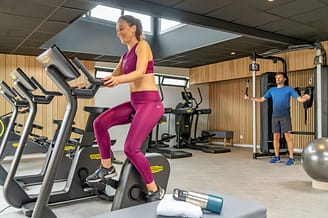 Balnéoh !
The balneotherapy
area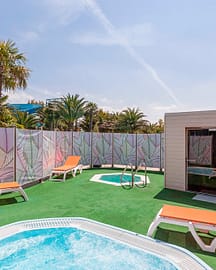 The exclusive indoor balneotherapy area, given over to your wellness, the must on this campsite with a fitness area in the Finistère department!
Much more than a simple indoor swimming pool on a campsite in Brittany, Balnéoh! meets the rest and relaxation needs expressed by numerous holidaymakers. Entirely given over to wellness and the delights of water as a family, this exclusive area proves both pleasant and functional.
Balnéoh! is home to a superb water park, where younger children can take advantage of the paddling pool with a multitude of water games to have fun, and older ones can bask in water heated to 29°C! Jacuzzis to relax, showers and massage jets which invigorate the body are located all around the pool.
The fitness area, with free access, is only open to adults. There's a whirl pool, cold water plunge pool and sauna here! There's nothing better for feeling good in the Pink Granite Coast – Morlaix bay area, than to come here to relax and free your body from the tensions and tiredness, accumulated during the year…
In turn, become hooked on the Balnéoh!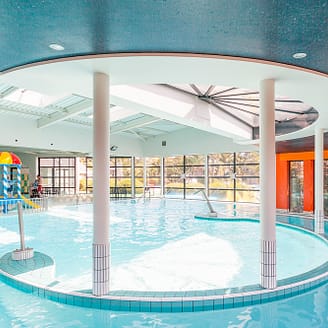 In
expert
hands
The relaxation and
beauty salon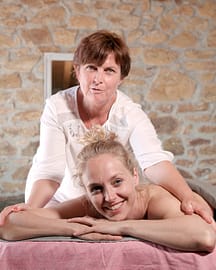 At your service during your Zen holiday in Brittany!
Our campsite by the sea in Brittany, Les Mouettes, offers you even more relaxation thanks to a beauty salon and massages!
On-site, various services are on offer to you with an experienced beautician: relaxing massages, but also body and face treatments, hair removal and others. Plenty to treat yourself to a moment just for you during your holiday, finally letting yourself go with wellness and relaxation.
Beauty treatment salon
Wellness Menu
Look after yourself during your holiday in Brittany!
Download