FAQ & Practical Information
On this page find all the practical information for the Les Mouettes campsite, and prepare for your stay with complete peace of mind!
Information & booking
Open from 12/04/2024 to 08/09/2024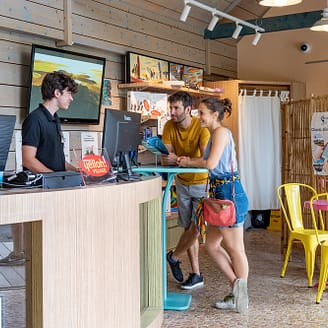 Reception opening times
In the low season :
8:30 AM - 8:00 PM
In the high season :
8:30 AM - 11:00 PM
The most frequently asked questions
Situation
How do we get to the campsite?

The campsite is located in the town of Carantec, 12 km from Morlaix and 15 km from Roscoff on the D19 departmental road between Morlaix and Roscoff.

Our GPS coordinates are 48°39'27.4"N – 03°55'4.3"W.

How far is Carantec town centre?

Our campsite is 1.5 km from the town centre where there are ATMs, banks, bakeries, a fish shop, restaurants, book shop, pharmacy, etc.

Is the campsite by the sea?

The campsite features an exceptional location by the sea, in the heart of the Morlaix bay. The seaside opposite the campsite offers you lovely walks and long trips out shore fishing at low tide and a magnificent panorama opposite Saint Pol de Léon and Roscoff.

Which beaches are intended for swimming?

For swimming, you can explore the numerous sandy beaches around 2.5 km from the campsite: Kélenn, La Grève Blanche, Le Clouët, Le Cosmeur, Tahiti, etc.
Arrival/Departure
What are the arrival and departure days?

We offer you the option to arrive on any day of the week from Monday to Sunday, to best organise your trip to avoid the main busy days, particularly in the peak season.

What are the arrival and departure times?

For holiday rentals, you can arrive from 5 p.m. onwards. On the day of departure, the accommodation must be vacated by 10 a.m. If you've booked the Tarif Week-end et Ponts weekend package, you can arrive on Friday or Saturday at 2 p.m. and vacate the accommodation for 6 p.m. on Sunday or Monday.

Until when can I arrive?

Reception is open up to 9 p.m. in July and August and 8 p.m. in the low season. If you arrive outside of these times, please contact us by telephone or e-mail. We'll give you the details for collecting your keys or your pitch location.
My holiday rental/pitch
Are sheets provided in the rental accommodation?

You must provide sheets in the 2 flower and 3 flower cottages (NB: you can hire them for an extra charge). They are provided in the 4 flower and Premium holiday rentals.

Are holiday rentals equipped with duvets or blankets?

Holiday rentals are equipped with duvets.

Do the holiday rentals all have heating?

The 2 flower cottages are equipped with heating in the lounge/living area. The 3 flower, 4 flower and Premium cottages and Premium chalets are equipped with heating in the lounge/living area and every bedroom. The 4 flower glamping tents have heating in the bathroom.

Is the accommodation equipped with a TV?

The TV is provided for free in all the holiday rentals (except for the glamping tents).

What channels are available?

You can access France's digital terrestrial TV channels (on the TNT Platform) and 2 English and 21 German channels.

Are babies included in the holiday rental accommodation capacity?

Yes babies are included in the holiday rental accommodation capacity. The maximum number of persons shown for the cottage or chalet should not be exceeded.

Can I book two holiday rentals side by side?

Depending on our availability and the accommodation selected we can book 2 holiday rentals side by side. To do so, feel free to contact us directly when you book by telephone on +33 (0)2 98 67 02 46 or remember to send us a message in the Internet booking form. To opt for the closest cottages, book as soon as possible.

Can I choose my holiday rental or pitch number?

You can mention your preferences in the 'comments' section of your booking form or state this by telephone. We cannot guarantee a given pitch number. Depending upon availability, we'll allocate you the pitch which best meets your needs.

To help you in choosing your accommodation, we have created designated areas: Natura Lodge, Bahia Lodge, Caraïbes (Caribbean), Gardenia, Classic and Canopia, to give you a more precise idea of your holiday rental's surroundings.

Are the terraces covered?

Some are. To make sure of this, read our holiday rental descriptions on our website or in our brochure carefully.
My booking
Why does my booking have two references?

You have two references for your stay. The 1st reference is your customer number (for example 3391582) and the 2nd is your Internet booking number (for example 020121174DUPONT022994637).

Are minors allowed here?

Minors should be accompanied by their parents or legal guardians.

When do I have a firm booking?

You have a firm booking with the campsite's agreement, after it receives a deposit of 25%.

In what name will my stay be booked?

Your stay invoice will be completed using the booking holder's details. If you join the Yelloh! Plus loyalty programme, remember to book your stay in the name of the loyalty card holder.

My works council will subsidize my stay. What procedure should be followed?

We advise that you contact us directly as each works council operates differently. We'll thus be able to decide the best way forward together.

Do you accept chèques vacances (national holiday discount vouchers)?

We accept vouchers and e-vouchers. To send us such vouchers, we recommend using registered post with an acknowledgement slip.

When and how should I pay the balance of my stay?

When: You should pay the balance of your stay 30 days before your arrival at the campsite.

How:

By debit card via Internet on our secure website: les-mouettes.com or by telephone providing your Internet booking number.
By bank transfer through your bank noting in the comments box your name and customer reference to the following bank details:
Bank: Crédit Agricole Carantec
IBAN: FR76 1290 6000 3462 0022 7900 138
BIC (Swift): AGRI FR PP 829NB – Please don't worry about the campsite receiving your transfer. This may take 2 to 4 days.

Can I change my booking?

We can change your stay free of charge, subject to availability in our village.

What if we decide to extend our stay on-site?

We'll extend your stay with pleasure, depending on our availability. If your accommodation or pitch is still available, we'll extend your stay. If it is no longer available, we'll look for another option together. When you check in, we will request your balance.

What if we choose to leave earlier than planned?

We do not give a refund if you decide to leave earlier.
Cancellation insurance
Do you advise me to take out cancellation insurance?

We highly recommend that you take out cancellation insurance for your stay. If you have to cancel your holiday for certain major reasons, the campsite will take responsibility for refunding your deposit or your balance (for stays cancelled in the months preceding your arrival).

Which major reasons does cancellation insurance cover?

If you have taken out cancellation insurance, you will covered in the case of serious illness, a serious accident or death of a member of your family, pregnancy complications before the 7th month, significant property damage to your own property absolutely requiring you to be there, economic redundancy, an accident or theft of your entire vehicle and/or your caravan occurring on the journey to your place of stay, cancellation or alteration of holiday dates by your employer.
Animals
Are dogs welcome?

Dogs are welcome, upon payment of a charge of €6 (except those in categories 1 and 2 – dangerous dogs). They should be kept on a lead.

Can they go for a walk on the beach?

Dogs are prohibited on Carantec beach between the 1st May and 30th September.
On-site
Are barbecues permitted?

Charcoal, gas and electric barbecues are permitted.

Does the rate include access to the water park?

Yes the water park is set aside for campsite guests and can be accessed for free. To access the water park, wearing the wristband given to you on the day you arrive is compulsory.

Is the water park heated?

The outdoor water park, including pools, giant water slides, a tropical river, the Aquagarden splash pad and Jacuzzi, is heated from 1st May 2024 to 8th September 2024.

The indoor Balnéoh ! swimming pool with water heated to 29°C and the wellness area with sauna and jacuzzi are heated from 12th April 2024 to 8th September 2024.

Can everyone access the wellness area with sauna and Jacuzzi?

The wellness area is set aside for those over 18.

Are swimming shorts permitted?

Yes swimming shorts are permitted in the water park.
Situation
Calculate my route
Les Mouettes campsite
50 route de la Grande Grève
29660 Carantec
Location
Brest-Bretagne Airport
60 km
Gare de Morlaix national SNCF railway station
12 km