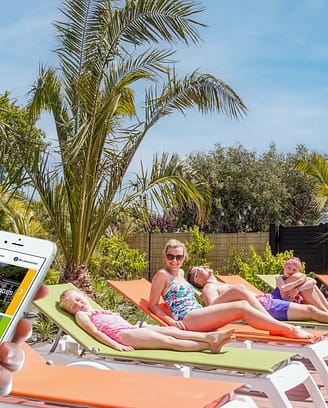 The
Yelloh!
Village benefits
Yelloh Village campsite in Brittany
Yelloh! Village, the Crafters of Happiness group!
The Les Mouettes campsite, the standard bearer for the Yelloh! Village group in Brittany
Are you looking for a Yelloh! Village campsite in Brittany? Opt for the loveliest one with Les Mouettes! Located in Carantec, in the north-west of Finistère, our 5-star establishment is one of the best outdoor establishments in north-west France (the so-called Grand Ouest).
Just a stone's throw from the charming seaside resort of Carantec, our Yelloh! Village campsite in Brittany entices you to spend an unforgettable holiday by the sea, facing the Morlaix bay, and close to many tourist attractions. The Callot, Louët and Batz islands are on offer for you during your stay, as well as the historic town centres of Morlaix, Roscoff and Saint Paul de Léon.
You'll have the chance to taste products from a land renowned for its gastronomy. These include Far Breton (prune custard flan), crêpe, Kouign-Amann (sweet Breton cake), galettes (buckwheat pancakes) but also seafood, etc…Likewise, during your stay on Les Mouettes, take the opportunity to indulge in various recreational and/or sports activities, such as kayaking, stand-up paddle boarding, etc. These are very popular in Brittany and especially in the Morlaix bay region!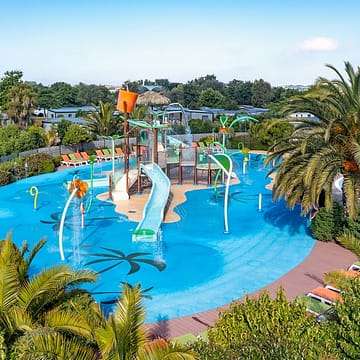 Yelloh! Village, the luxury campsite in Brittany
In Brittany, our Yelloh! Village campsite offers you the chance to discover the best in camping and caravanning, due to our wide choice of holiday rentals including luxurious mobile homes. A range of ultra-comfortable holiday rentals for the greatest delight of your family or friends, with some of them having a direct and panoramic view over the Morlaix bay and the many islands scattered throughout the bay.
Consisting of genuine "Crafters of Happiness", our team will be pleased to welcome and entertain you throughout your entire stay, offering you daily activities and entertainment. Through the magic of the Yelloh! Village campsite, the mini club welcomes your children so they can meet, make friends and have a whale of a time.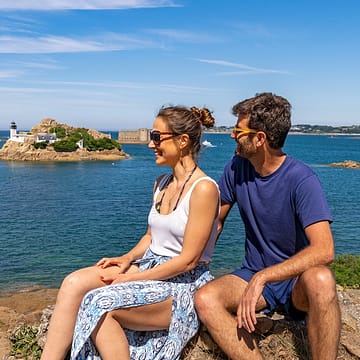 You'll be able to make the most of our exceptional water park to relax and have fun or even the numerous beaches running along the bay, to make sandcastles with your children.
Water sports and sports activities, entertainment, evening events, wellness area, an entire programme awaits you during your stay on the Les Mouettes campsite. In addition, you'll also have the chance to discover the treasures of Finistère during your holiday, culinary specialities but also the must-see tourist attractions!
To better
assist you
A charter to
respect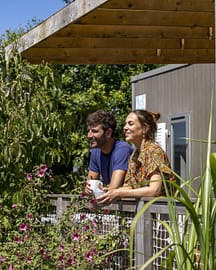 On the Les Mouettes campsite, as with all the establishments in the Yelloh! Village group, there is nothing more important than the human element. This is why we are committed to always being here for you. By signing the Yelloh! Village staff charter, our team commits to:
Being available each time you need us
Listening to you, answering all your questions by giving you
quality information
Sharing our good humour and cheerfulness
Making our talents and skills available to you
Ensuring the cleanliness and safety of the campsite and its facilities, everywhere and at all times
Join the
Yelloh! Village loyalty programme
Request, without delay, your Yelloh! Village group loyalty card It is free and enables you to join the Yelloh! Plus programme. With each stay on a Yelloh! Village campsite, everywhere in Europe and all throughout the year, you accumulate points, earning free nights for your next stay!